 
Ginger Extract Powder 60 g
Ginger is a perennial herbaceous plant native to Asia where it has been used as a spice for thousands of years. The edible part of the plant is the rhizome, the bark of which is light brown and the inside light yellow.
Ginger is rich in bitter substances, which after calling gingerols. Gingerols accelerate the secretion of digestive fluids, which is why ginger is used to promote digestion and prevent motion sickness. Gingerols are also believed to have joint flexibility-enhancing effects.
Feel Vivid Ginger extract is very strong and plentiful. In daily use, a ginger extract powder bag lasts about 3-4 months. Contains 5% gingerols.
Instructions for use: 1/8 to 1/4 teaspoon per day. Completely soluble in water. Awesome calorie-free ginger tea is created by putting honey and 1/8 teaspoon of Feel Vivid ginger extract in hot spring water.
Properties: Gluten-free, Lactose-free, Milk-free, Vegan, GMO-free. Does not contain additives or preservatives.
Pack size: 60 g
Contents: Ginger, dextrin. Contains 5% gingerols.
Country of origin: China
You might also like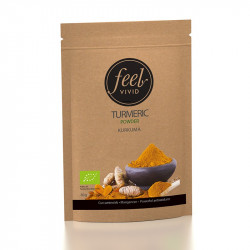 Regular price
€17.90
-16.76%
Price
€14.90
Related articles on blog
No related articles on blog