 
Triple Magnesium 60 caps
You won't find this better magnesium on the market! Tripla Magnesium contains three high-quality forms of magnesium: magnesium malate, glycinate and taurate, which makes Tripla Magnesium an exceptionally unique product. In addition, Tripla Magnesium is more gentle on the stomach than conventional magnesium and is absorbed excellently. Magnesium promotes muscle function, protein synthesis and strengthens bones, among other things.
Completely lactose-free, milk-free, gluten-free, additive-free and filler-free.
Does not contain gelatin or ingredients of animal origin.
Developed and manufactured in Finland.
Country of origin USA.
Recommended daily dose: 1 - 4 capsules per day. The daily dose contains 90 mg - 360 mg of magnesium, which corresponds to 24% - 96% of the recommended daily intake.
Ingredients: Magnesium malate, magnesium glycinate, magnesium taurate. Capsule: Cellulose, water.
Storage: Store at room temperature, dry and protected from light
Made in: Suomi / Finland
Country of origin: USA
Supplements. Dietary supplements should not be used as an alternative to a varied diet. The recommended dose should not be exceeded. Keep out of reach of small children. Contains dehumidifiers that must not be eaten.
You might also like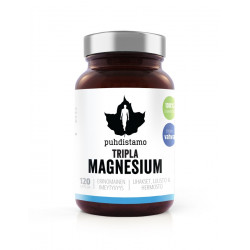 Regular price
€15.90
-12.58%
Price
€13.90
On sale!
-12.58%
Out of stock