 
L-Phenylalanine 500 mg, Solgar 50 caps
Solgar® L-Phenylalanine 500 mg is a high quality amino acid preparation that acts as a precursor to tyrosine.
Amino acids are the building blocks of proteins and are needed for many different functions in the body, such as hormones, enzymes, neurotransmitters, and the production of antibodies. Amino acids can be either essential or non-essential. Essential amino acids cannot be produced by the body itself and must be obtained from food. Amino acids are obtained from food e.g. meat, beans and eggs.
L-Phenylalanine is an essential amino acid that acts as a precursor to tyrosine, supporting the production of adrenaline, noradrenaline and dopamine in the body.
Recommended dosage: 1 capsule daily between meals.
Active ingredients (1 capsule):
L-Phenylalanine (free form) 500 mg
Other ingredients: Shell (hydroxypropylmethylcellulose), anti-caking agents (magnesium salts of fatty acids).
All Solgar® products have been manufactured in accordance with Solgar's Gold Standard standards since 1947. Solgar uses only natural ingredients in its supplements.
Our strict quality control system tests the products at every step from the raw material to the finished product. All raw materials entering our production facility are subjected to rigorous testing to ensure that they are of the highest possible quality.
You might also like
Regular price
€16.90
-11.83%
Price
€14.90
Regular price
€27.90
-10.75%
Price
€24.90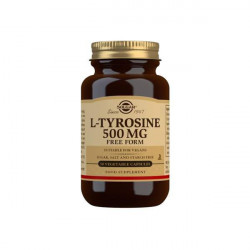 Regular price
€23.90
-8.37%
Price
€21.90