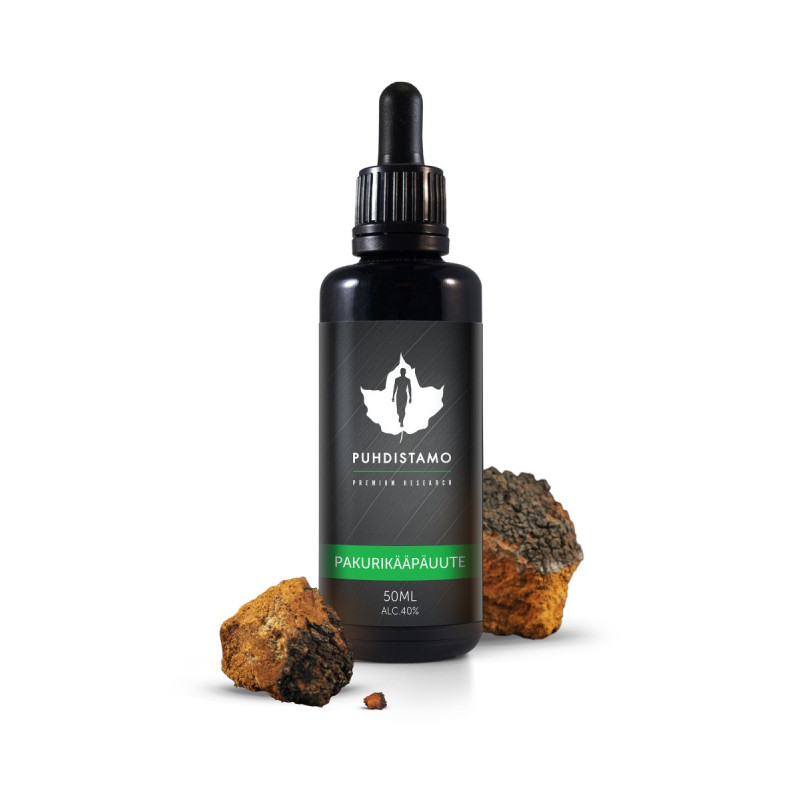  
Chaga extract - 50ml
- 100% of Finnish chaga
- Easy to use
- Sufficient and strong extract
- A completely Finnish product
Chaga extract is Finland's first double extract from a chaga To date, Chaga extract is the product of the Puhdistamo that has required the most development work and care. Chaga is one of the classics and the most respected raw materials of Finnish nature, and thus in its new form it is extremely easy to use and convenient to add to the liquid. The product is very rich and dense: compared to the usual one, it is as much as a six-fold concentrated double extract from a Finnish northern chaga.
Ingredients: Water, alcohol (20%), chaga
The recommended daily dose (2 ml) contains 200 mg of chaga extract, of which beta-glucan is 50 mg.
The product contains alcohol. By adding the extract to the boiling hot water, the alcohol evaporates if necessary.
Store dry and protected from light.
Food supplement. The recommended dose should not be exceeded. Keep out of the reach of children. The dietary supplement is not a substitute for a varied diet or a healthy lifestyle. Not for use with anticoagulants. If you are pregnant or breast-feeding, discuss the use of the product with a qualified healthcare professional.
You might also like
Regular price
€24.90
-20.08%
Price
€19.90