 
Nettle Powder 120 g
Nettle (Urtica dioica) is a perennial grass plant that generally grows throughout Finland, except in the northernmost parts.
Nettle is rich in nutrients such as vitamin A, C, E, K, B1, B2, B6, vitamin K, flavonoids, phosphorus, potassium, calcium, chlorophyll, copper, manganese, magnesium, sodium, silicon, iron, selenium and zinc. Dried nettle also contains 25% dietary fiber.
Nettle has a vitamin C content of three times that of orange and a calcium content of four times that of milk. In addition, it contains three times the amount of iron compared to spinach.
Nettle is also a great source of antioxidants. Adequate intake of antioxidants maintains physical and mental fitness. Thanks to its rich content of vitamin C and iron, nettle is suitable for the supportive treatment of anemia. Thanks to the histamine it contains, nettle can also relieve allergic symptoms.
Feel Vivid Nettle Powder is a high-quality nettle grown in Finland's pure nature. Nettle powder is made from clean leaves by crushing and drying at low temperature. No chemical pesticides have been used in the cultivation.
Instructions for use: 1 teaspoon -1 tbsp per day. Great for pastries, soups, tea, yoghurt and smoothies, for example. Nettle tea is an easy way to get the most out of this great herb. Nettle soup is also a great way to enjoy larger amounts of this beneficial plant.
WARNINGS
Hives are not recommended for people with heart or kidney problems.
Properties: Gluten-free, Lactose-free, Milk-free, Vegan, GMO-free. Does not contain additives or preservatives.
Pack size: 120 g
Contents: 100% nettle leaf powder (Urtica dioica).
Country of origin: Finland
You might also like
Regular price
€14.90
-20.13%
Price
€11.90
On sale!
-20.13%
Out of stock
Regular price
€14.90
-13.42%
Price
€12.90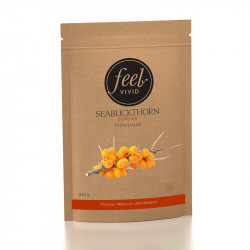 Regular price
€14.90
-13.42%
Price
€12.90
Related articles on blog
No related articles on blog
Reviews