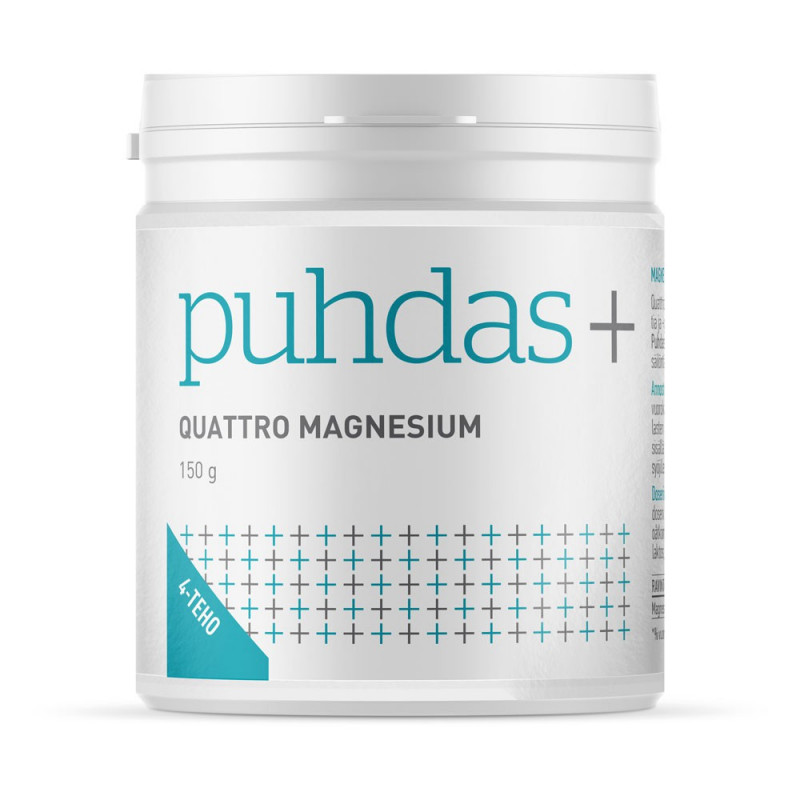  
Quattro magnesium powder 150 g, Puhdas+
The most versatile and high-quality magnesium product on the market!
Puhdas+ Quattro Magnesium is effective because it contains four effective forms of magnesium.
Puhdas+ Quattro magnesium powder contains:
- Magnesium malate: malate is a form of magnesium that many feel is particularly effective against fatigue.
- Magnesium taurate: magnesium is bound to the amino acid taurine. Taurate is especially gentle on the stomach.
- Magnesium gluconate: Magnesium is incorporated into glucose and is a highly absorbable form.
- Magnesium bisglycinate: In bisglycinate, magnesium is the amino acid bound to glycine. For example, glycine is present in all parts of the carcass that are currently discarded, such as bones, joints, skin, and internal organs. Especially useful for athletes.
Puhdas+ products are high quality finnish food supplements. No additional ingredients such as preservatives, dyes and finishes are used in the manufacture. 
Dosage: For adults 1-4 measuring spoons per day. The powder is mixed with a glass of water, juice or smoothie. The recommended daily dose should not be exceeded.
The supplement is not a substitute for a varied and balanced diet or a healthy lifestyle. Not in the reach of children.
Ingredients: Magnesium malate, magnesium bisglycinate, magnesium taurate, magnesium gluconate.
Free of lactose, yeast and gluten. Free of sugar, salt, starch, corn, soy, sweeteners. Suitable for vegetarians. Food supplement.
NUTRITION CONTENTS / 1-4 measuring spoons
Magnesium 85-340 mg (* 23-91%)
*% of daily intake reference value
Pack size: 150 g
Country of manufacture: Finland
You might also like
Regular price
€12.90
-23.26%
Price
€9.90
Regular price
€14.90
-13.42%
Price
€12.90